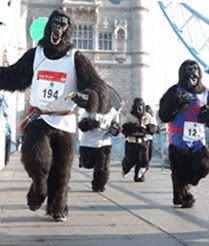 Mostly I just wanted to post a picture of people running in
gorilla
suits, but if you feel like checking it out there is a
gorilla run
going on in San Francisco tomorrow to raise money for and awareness of gorilla endangerment. Specifically for
Mountain Gorillas
, of which
some
say there are only 380 left in the world. $100 gets people a free gorilla suit (though the stink will probably never come out) and a chance to run (or walk, more likely) 7km through
Golden Gate Park
, a nice place. My first thought was, "why are they doing this in the middle of June?" But then I remembered, "
oh yeah, San Francisco
."
Maybe not as fun as last week's
Zombie Walk
, which happened a few days before the
Cardboard Robot Rumble
. Have San Franciscan's run out of real causes to march for?