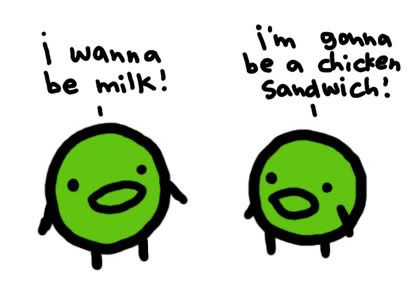 Look, I know
some people
are too busy watching movies and having sex to actually post on here, but I think some content is probably overdue. Perhaps a bit of provoking?
No one likes to hear about vegetarianism or
veganism
or whatever. But if you saw Jake sometime between mid-January to, oh, April, or May, or June, you probably had to hear all about it, because he was so proud of giving up meat that he couldn't shut up about it. All the talk pretty much made me stricten (this is not a word, apparently. Why not? Tighten? Strengthen? What am I missing here? I am going to use it anyway) my own "no meat" stance and make sure I didn't eat fish or accidentally ingest some chicken broth. Not because I'm moral, more because I have to compete.
Anyway, I've witnessed many a dismissal from non-vegetarians, implying that people who don't eat meat for moral reasons are weird, crazy unamericans (also not a word. What the hell?) Why so defensive, meat-eaters? You don't seem to judge when people do all kinds of weird shit if the ethical code of their religion demands it. Even if that means knocking on your door in the morning or not drinking Coke.
The arguments for
not eating meat
are pretty obvious and straight-forward, even if you think animals are stupid and ugly. I'm not going to get into them because, as I mentioned before, no one wants to hear all that. But Jake might want to let you know. If he ever shows up. But it's not like I'm going to look at you funny when you're eating a hot dog. Depending on how you eat it.
Actually, Jake, maybe you can help explain things for the meat-eaters. Because, as I sit here enjoying my non-dairy frozen dessert (rocky road,) I can see you mocking me. So what if I don't eat/drink milk or if I like to get my protein via
tasty soy products that pretend to be something they're not
. Maybe, deep down, you wish you could join me.